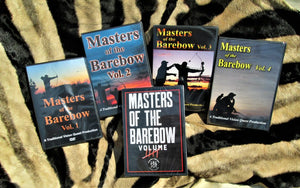 Volume One – Featuring nine world class archers and bowhunters: Dale Karch, Gene Wensel, Ron LaClair, Roger Rothhaar, Rod Jenkins, Darryl Quidort, David Soza, Dean Torges, and Trish Ferrera. Each shares unique insights and individual shooting methods from simple self-bows to state-of-the-art recurves and everything in between. 100 minutes long.
Volume Two – Featuring two hours of one-on-one instruction from: IFAA World Champion and 3-time NFAA National Field Champion Ty Pelfrey; Barry Wensel celebrated whitetail expert; renowned self bowyer Gary Davis; 3-time IFAA Longbow Champion Larry Yien; NFAA National Champion Lauren Van Cleave; accomplished bowhunter Steve Fausel; TV personality and World-Class Bowhunter Fred Eichler. Also features a Special Arrow Tuning Bonus Section, with paper, bare shaft, and group tuning by Ken Beck of Black Widow Bows, David Soza designer of DAS Kinetic Bows, and Rod Jenkins – IBO World Champion.
Volume Three – Featuring tips and tricks from Rod Jenkins, IBO World Champion, and Larry Yien, 3-time IFAA World Longbow Champion. Learn drills and exercises to improve your shooting form. Discover ways of imprinting your shot into the subconscious mind, staying calm during high-pressure shots, techniques for maximizing accuracy, and more. Hours of instructional shooting that is effective for all shooting styles. Includes bonus section on defeating target panic. All original masters from volume one return to weigh in.
Volume Four – Featuring college psychology professor, Jay Kidwell, Ph.D., who explains how your mind works during the shot, and shares some drills to get your subconscious mind back on track. Plus, insights from Archery & firearms instructor and SWAT team leader, Joel Turner, who teaches his system of shot psychology developed for dealing with high stress archery shot situations. Rod Jenkins also returns with shot analysis and new thoughts on shot sequence and bow tuning. And successful bowhunter and writer, Denny Sturgis, Jr., explains string-bow training and string blur, and their benefit to your shooting consistency and confidence.
Volume Five – The Masters are back! In the highly anticipated fifth installment of the Masters of the Barebow series, some of the top shooters and bowhunters in the country give you tips, tricks, and vital information for improving your shooting techniques. Filmed and edited using new state-of-the-art HD equipment. You'll learn from the best! IBO Champion Rod Jenkins, world and national champion Jason Wesbrock, bowhunting expert Randy Cooling, barebow master Denny Sturgis Jr., and 3Rivers Archery's very own Dale Karch! Hone your skills to a razor's edge with expert advice from Masters of the Barebow, Volume Five!