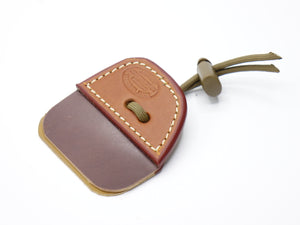 Our newest and most premium finger tab made from the finest USA heavyweight cowhide tab plate designed to take advantage of the string indexing qualities of target tabs, but shaped to eliminate face interference, for the higher anchors typically used by barebow archers.
Shell Cordovan: A smooth release, every time with minimal break in time needed.
Tight grained calf backing to maintain shape and enhance durability. Absolutely consistent stitch spacing and location. String walkers can be assured that the stitching will result in repeatable crawls on every tab.
The Rod Jenkins Elite Series tab is made under tight tolerances to ensure consistency in feel and function from tab to tab. Make sure you have a few tabs on you for your next adventure.
Backed by the Safari Tuff Guarantee
SIZING DIRECTIONS
Tabs should be selected by width. Measure across center knuckles and select from size chart.
| | |
| --- | --- |
| XL | 3 1/8″ |
| L | 2 7/8″ |
| M | 2 5/8″ |
| S | 2 3/8″ |